Stoketshirts.co.uk supporting "Wear It Pink" Day
Stoketshirts.co.uk  backs "Wear it Pink" Day.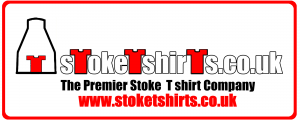 Proud Potters can help research the cure for Breast Cancer.
In conjunction with Breast Cancer Research, Stoketshirts.co.uk, the Premier Stoke T Shirt company, will be helping anyone who wants to take part in "Wear It Pink Day" on Friday October 30th and do their bit for Breast Cancer Research, by donating £2 from each Pink T shirt sold to charity.
Between now and next Wednesday, visitors to their online store will be able to choose any design and, provided it's printed on a Pink Mens or Ladies T- shirt, Stoketshirts.co.uk will then donate £2 from the sale of each shirt to Breast Cancer Research who are researching the cure for the illness.
The T-shirts can then be worn by anyone taking part in Wear it Pink day at their workplace or school on Friday 30th October. If people haven't already organised an event, they can register at www.wearitpink.co.uk and find out more about what's involved. 
 "We wanted to help people participate in Wear it Pink Day and also show their pride in being Supporters of the finest Football Club in the World" says Simon Hancock of Stoketshirts.co.uk. "In a way, we hope that our offer allows people to "double up" their donation to the charity", he continues. "For each shirt sold, Breast Cancer Research will hopefully receive both our donation and the donation when our customers participate at their workplace or school".