Tuncay Sanli meets Che Guevara and Tinchy Stryder
What do you get when you cross a t shirt designer with a Turkish International footballing legend, a marxist revolutionary and a former University of East London student who had a UK Number one single in 2009?
A bizarre mix of t shirt designs, that's what!
From Che Guevara to Tinchy Stryder, could our influences be wider??
Our TUNCHE design is a simple mix of Guevara

Che Guevara at the La Coubre memorial service.
Taken by Alberto Korda on March 5, 1960.
PLUS Tuncay
EQUALS
TUNCHE
N.B. Turkish ref. on cap badge 🙂 (*
Meanwhile
Tinchy Stryder and his Star in the Hood clothing range
available here
Star In The Hood
PLUS
TUNCAY – (when he plays "in the hole" behind the front two, as late on at Wigan)

EQUALS
TUNCAY STRYKER – A STAR IN THE HOLE
Another little known connection between Stoke – on – Trent and Tinchy Stryder is Jack Foster! Jack is the son of Author Stephen Foster, known for his excellent books on Stoke City, "She Stood There Laughing" "….And She Laughed No More"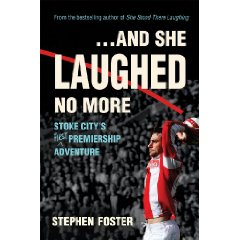 Jack is pictured on the front of "She Stood There Laughing" and has since gone on to achieve fame in his own right through his music management career. His company is called "Takeover Entertainment" and he is co – manager of Tinchy Stryder.
Not bad for a Stokie living in Norwich!
These designer shirts and hoodies are all available online at www.stoketshirts.co.uk
Click the following links
Tunche
Star In The Hole
as well as the book
….And She Laughed No More