SCFC F5 Refresh – Revitalised Potters. Boss in the trough, strong management required
From the moment new signing Charlie Adam was introduced in Saturday's game against Wigan, Stoke played with increased  creative energy.  We carried the game to the opposition and  showed much more fluidity.  Even at this early stage we could all see that Charlie can provide that craft and guile we've been looking for.  Combine that with his natural tendency to be industrious and cover ground, we may have finally found the missing link in our evolution.  It could prove to be a masterstroke from Tony Pulis.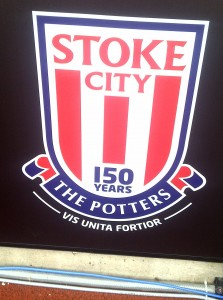 The first half was tale of two penalties, both correctly awarded.  Having got to half time on level terms it was infuriating to again fall behind early in the second half to such a sloppy goal.  Our defence got dragged all over the park.  It was a decent finish by Di  Santo but from our perspective it was catastrophic that he managed to get such an opportunity.  For a side like Stoke, known for defensive organisation, it was an awful way to fall behind.  To our players credit they drove forward in search of the equaliser.  The deserved leveller eventually arrived in the 76th minute through Peter Crouch.  It was pleasing for Crouch to get on the score sheet as so far this season he's rarely had a sniff of goal.  However, Saturday proved that with service he's still a huge asset and our most likely scorer.  The remainder of the game saw us pressing for the winner.  We'd have snatched the victory but for Ali Al Habsi's remarkable reflex save from Charlie Adam's free kick.  All in all a draw was a fair result.  Most pleasing is that in Charlie Adam we finally have a playmaker.   A refreshing performance from The Potters.
Cristiano Ronaldo scored twice for Real Madrid but celebrated neither goal.  After the game he told the press "It could be because I am a bit sad. That is the only reason. When I don't celebrate goals, I am not happy."  Predictably,  his words sparked a barrage of intrigue.  Is he trying to manipulate a transfer?  Unless he's prepared to take a pay cut there may only be two clubs in the world who could afford him.  If Paris Saint Germain aren't prepared to splash out he could be moving back to Manchester… and he wouldn't be wearing red this time!
Bizarrely, head of UEFA Michel Platini has welcomed the influx of QSI (Qatar Sports Investments)  money to PSG.  This is in contradiction to the financial fair play rules he's instigating.  Platini and Qatar seem to have a thing for each other.  Platini also voted for Qatar to host the 2022 World Cup.  Platini and Qatar could be seen as a love wholesome and pure… until you remind yourself that Laurent Platini, son of Michel, is QSI's legal advisor.  Platine was a truly great player but once he became a powerbroker he dipped his head in the trough…. just like the rest of them.
Newcastle manager Alan Pardew has received a two match touchline ban for pushing assistant referee Paul Kirkup.  Two matches is remarkably lenient.  Since the incident Pardew has been humble and apologetic but manhandling officials should be treated with utmost seriousness.  Referees should unite and take action about this episode.
Attention now turns to the forthcoming World Cup qualifying matches.  England's preparation has been disrupted by injuries to Wayne Rooney and Andy Carroll.  Roy Hodgson took the odd step of choosing not to replace Carroll in the squad.  Rooney's absence could be a blessing in disguise.  Statistics show that England are more likely to win without Rooney in the team.  Since illuminating the  the 2004 European Championship, Rooney has played in three tournaments and made little impression.  While few would doubt he is the outstanding English player of his generation, at international level he can't be trusted to deliver. One factor is everything England do goes through him, which seems to inhibit his colleagues.  There is a precedent we can reflect on.  In one of his early press conferences as Spain manager Luis Aragones was forcefully questioned about the omission of Raul.  Aragones reached breaking point and asked the gathered media how many tournaments Raul has played in and how many of them had Spain won?  When the answer was that with Raul Spain had won nothing Aragones turned the questions back on his inquisitors by demanding to know why they insist on Raul.  That was one of the pivotal points that turned Spain into football's dominant power. If the games against Moldova and Ukraine go well, and Rooney is fully fit for the qualifiers in October, Roy Hodgson would be wise to copy Aragones' strategy.  It'd be a huge decision but management involves making those decisions.  Reputations alone shouldn't make an automatic starter.
Fabio Capello's Russia start their campaign with a match against Northern Ireland.  Capello sat down with Andrei Arshavin recently to tell him he would be continuing as captain.  When the squad was announced Arshavin hadn't been selected.  Following the ongoing traumas in his previous job it does raise the question…. what is it with Capello and captaincy?