It took a while to actually get around to this one as I hate losing especially against lower league opposition and it is a massive de motivator. Anyway here we go!
Reasons To Be Cheerful
Team selection – initially I thought TP had picked a strong side, a lot stronger than I initially thought it would be. Surely it would be a formality with the line up selected! How wrong could I have been
The Weather – Watching footie at the Brit in my shirtsleeves at nearly 10pm, there won't be many more days like that this season.
Talking of 10 – We only need 10 men – Well that was I note I made when Crouch equalised in extra time!
A decent away following from Swindon.


Di Canio – great passion and desire, good moves, be great on Strictly Come Dancing!
Before they scored there was some nice one touch exchanges between Whitehead and Jones which resulted in a sweet volley but it was straight at the keeper.
Another couple of examples of easy on the eye football was when Jones should have done better with a Pennant cross a minute later. Also later in the game when Geoff Cameron decided to take the game to Swindon and carried the ball forward.
Half Time seemed a bit surreal and it inspired me to tweet, "Dare I suggest that this is what u get when we rest super Johnnie Walters 🙂 woeful performance NO Desire." At least he spiced it up a little when he came on with his endless chasing down.
Cameron was decent in patches.
A few players were found wanting and should become surplus to requirements – Sorensen, Shotton & Upson can be counted in that number. Get 'em moved on Tone!
Strange observation was that six of the seven goals were at the Boothen End!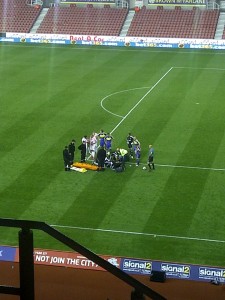 Good physio work on the left back in extra time
Now I should be able to fill a page. Heavens Knows I'm Miserable Now
Sorensen looks off the boil, a poor kick and droppping the ball to gift the goal. He's a good shot stopper as he proved to save Shotton's blushes and again later in the game but I'd prefer a keeper that is a steady eddie and is consistent everywhere.
Misplaced passes
Again – where do I start? Shotton, Huth, Whitehead were just a few of the players that were guilty. We were made to look the league one side when Swindon showed how it should be done. Someone said he didn't think Di Canio would pick some of our players in his side as they haven't got the basic skill set he demands, I reckon he's not far wrong.
Not wanting it
No desire in the side, It looked like Swindon had been in our dressing room and stolen all the bottles labelled "PASSION, DESIRE, COMMITMENT"  They played with our passion and got a deserved result.
Sorro's handling – The back four don't seem as confident around him as they do Begovic.
Shotton defending the diagonal long ball. Sorensen redeemed it, then we concede a real cheap goal from the resulting corner.
The atmosphere – AWFUL! Leave the Seddon open even if the crowd is a sparce one or price the tickets to fill the place!
A fiver a seat wouldn't have gone amiss!
The Result
Jamie Ness debut – injury stricken midfielder gets an injury shock!
Team Line Ups
Stoke City
29 Sorensen
02 Cameron
04 Huth
12 Wilson
20 Upson
30 Shotton (Ness – 77′ )
07 Pennant
18 Whitehead
21 Kightly
09 Jones (Crouch – 77′ )
33 Jerome (Walters – 77′ )
Substitutes
27 Nash
17 Shawcross
28 Wilkinson
14 Ness
24 Delap
19 Walters
25 Crouch
Swindon Town
01 Foderingham
03 McEveley (Thompson – 98′ )
04 Flint
05 Devera
06 Navarro
10 Ritchie
12 McCormack Booked
18 Miller
09 Collins
16 Williams
23 De Vita (Ferry – 73′ )
Substitutes
30 Bedwell
15 Thompson
32 Smith
07 Rooney
08 Ferry
13 Risser
20 Storey
It was a game of two halves and a bit more!
First half we were woeful, second half we improved, the bit more was more of the same with Swindon deservedly getting through to the next round.