Welcome to our third newsletter/ product update. We have been busy working on a new category called Love Stoke Hate …… that has 7 new designs. We also have 4 new designs based on players (The Great in our title) we haven't covered yet. One of these is a legend on an international scale – the first true "international football superstar."  There are also 3 designs that haven't yet featured in a newsletter but have been available for a while plus another anti Vale for good measure. Have a read of our other news at the foot of the page too!    
"It's A Thin Line Between Love and Hate"
It was Chrissie Hynde of The Pretenders who wrote the above line, but why pretend? I totally disagree. I believe it's a very  thick line, a line as wide as the River Trent itself. We all Love to Hate a team and we have covered more than a handful of  "the despised" in this newsletter. The "Love and Peace, Goodwill to all men" message of Christmas is over and done with for  another year, let's get back to full on hate! It's part of our passion that makes the Bearpit Great.  Why do we hate teams? The reasons are wide and varied. With Stoke & Vale both back where they belong does the hatred whither?  I don't think so. Man U, does anyone really need an explanation why we hate them?  The other three major gloryhunter attractors are also given their own design along with a collective  "LOVE STOKE – HATE GLORYHUNTERS" design.  Wear these shirts with pride to show your Love of Stoke and the club you despise! One for the South Staffordshire Stokies completes the set with the Dingles having a design that includes two silver bullets!  
Email not displaying correctly?

View it in your browser. 
Love, Hate and Great
Love Stoke Hate ………..
Love Stoke Hate Gloryhunters

Why?
We Support Our Local Team.
A lineup of the Gloryhunters

dream

Nightmare!
Love Stoke Hate Arsenal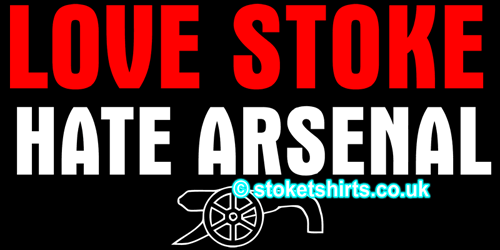 Why? Try a few of these reasons:-
Whinging Wenger, FA Cup Semi Finals, IceCream Seller, Highbury Library, Diving Eduardo, Alleged Bungs, Gloryhunting supporters. 

The Gunner's Cannon has brewers droop!
Love Stoke Hate Chelski
Why? Try a few of these reasons:-
AbromaRICH trying to buy success, Cash no Class, FatFrank, Diving Drogba, Alleged Illegal approaches, Gloryhunting supporters.         
Love Stoke Hate Liverpool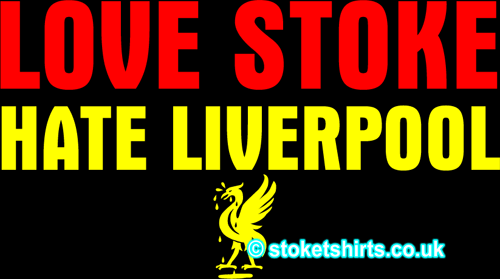 Why? Try a few of these reasons:-
Fat Spanish Waiter, 8 Nil, Gerrard punches like a girl, Missing Wheels, Diving Forwards, Gerrard Justice?, Gloryhunting supporters.
The Liver Bird crys again!
Love Stoke Hate Man U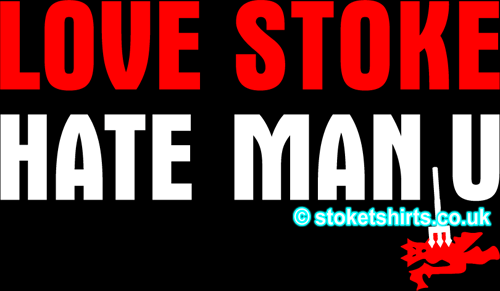 Why?
No Explanation Required!!
The Red Devil Forks Himself!
Love Stoke Hate Vale

Why? Try a few of these reasons:-
Vagrants, The Un Washed, Foyle, Porter, Grew, Walker, Billy Bellend, Charlie Machin's European Dream (drug test please!), Puddles at The Wembley of the North, Illegal Market, The dog had it's day and we never heard the last of it!
The True Vale badge snaps and displays it's true values.
Love Stoke Hate Wolves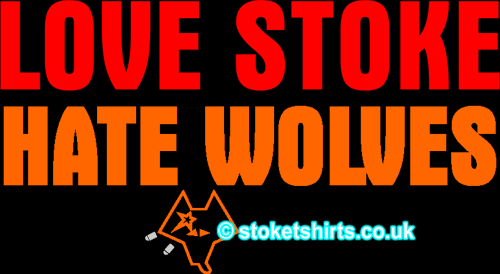 Why? Try a few of these reasons:-
The Fat Controller mad Jezzer, Yam Yam Yam Yam, Orange n black, Dingles.
The Wolf is finished with a couple of silver bullets!
FTV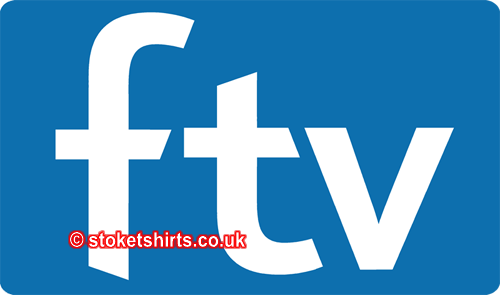 If I was to the you that T stands for The and V stands for Vale, can you guess what the F stands for?
Answers followed by the word off, on a postcard please to Port Vale FC, Hamil Road, Burslem, Stoke – on – Trent.
Wilkinson Stoke
Ooh Andy Andy, Andy Andy Andy Andy Wilkinson.
The most improved player since Stoke have been in the Premier League.
A few forwards have felt his sharpness recently so how better to celebrate his brilliance than a pack of blades bearing his name.
Tommy Sørensen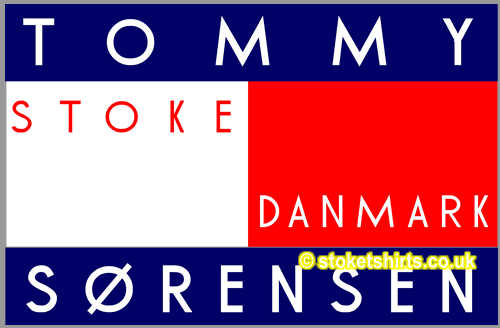 Thomas Løvendahl Sørensen born on the12th. of June 1976 in Fredericia, Denmark, better known to us Stokies as Ooohh, Tommy, Tommy, Tommy, Tommy, Tommy, Tommy Sorensen.
His fantastic record of penalty saves for Stoke City this season as seen him become a real fans favourite and his presence between the sticks has made us one of the meanest defensive sides in the Premier League. 
The design we have used also recognises his success on an international level, where he will be defending the Danish goalmouth during the 2010 World Cup in South Africa. He has moved on from being Peter Schmeichel's understudy to owning the position outright.
Whitehead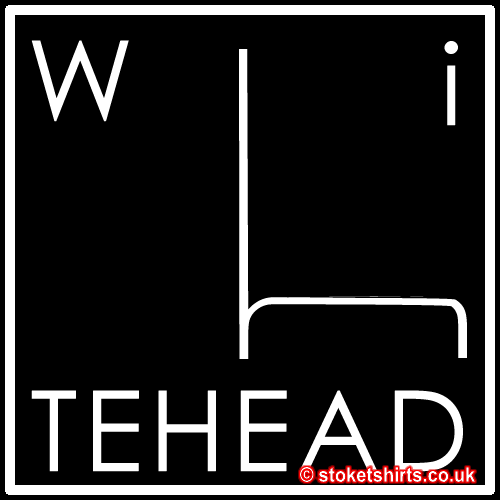 Dean Whitehead – apparently the "

dury's

jury's still out" but we appreciate what Dean brings to the team and honour him with a design based on another "marmite" character, Ian Dury (well his Blockheads any way!).
When we signed Dean I wrote that he could become another Steve Foley, a player that player's love because he puts in the hard yards and lets them get on with their game, Foley was that type of player in Lou Macari's successful Stoke City team, loved by the players but not cherished by the supporters.
I'm sure Dean will deliver and is constantly improving as the season progresses. So Jury, do you want to "hit him with your rhythm stick" or is he a "Reason to be Cheerful?"
God is 7 Sir Stanley Matthews
    Never could this be a truer statement than when referring to the very first player to make a shirt number his own. The No. 7 worn on his back wasn't required to identify Sir Stanley Matthews, he let his skill do the talking. We* have condensed Mr. Black's lyrics down to the statement to "If Man is 5, then the devil is 6, then GOD is 7" and added the image of the world's finest football statue. The word God is used to frequently in the modern game but Sir Stan was a true footballing god. He was years before those pretenders to the throne, George Best, Kevin Keegan, Kenny Dalglish, Eric Cantona or Cristiano Ronaldo. Who else could have a FA Cup Final named after him despite the same team's centre forward (Stan Mortensen) getting a hat trick. N.B. Stoketshirts.co.uk will make a donation of £1 for every shirt sold to the Sir Stanley Matthews Foundation. www.ssmf.co.uk for more information about the foundation. 

*credit to Bunny and Mills!        

Matty Ezer Good
There's a guy in the placeHe's got a bittersweet face And he goes by the name of Matty Ezer Good  His friends call him Ezer and he is the main geezer   And he'll vibe about the place    Like no other man could    He's refined, sublime, he makes you feel fine     Though very much maligned and misunderstood     But if you know Ezer, he's a real crowd pleaser     He's ever so good, he's Matty ezer Good            
Britannia Amplification

A representation of you – one of our great supporters.
Have a look at the controls on the amp.
Power 1 0
Roar On or Off
Tone – Quiet or Rowdy
One Volume control for each stand plus a master control.
Boothen, Seddon, J Smiths and South. n.b. The selection isn't the traditional 1 to 10 but one more than the spinal tap 11 at 12th. Man.
The Inputs are Pride, Passion, History and Beer!
Classic amplifiers also carry an individual number tag, this one has the number 1863
Never Surrender

This could be the theme tune of Stoke City
Dave Grohl et al of the Foo Fighters could have written this about the Stoke City Mentality – this applies to both the team and us supporters. To quote Grohl's former band Nirvana "Smells like Teen Spirit"
The lyrics include the lines
"What if I say I'm not like the others"
"What if I say that I Will Never Surrender"
Our inspiration for this design was this video at the end of the season awards.
It is a play on the Foo Fighters logo and the words "What If I Say I Will Never Surrender"
Stoke – on – Trent
 
The finest city coat of arms ever to be designed.
The motto – "Vis unita fortior" and it's Translation – "United Strength is Stronger" are both included on the shirt.
A representation of the six towns all bought together in 1925 to form The City of Stoke – on – Trent, although this crest was recognised on the 20th. March 1912 where the six towns united into a single County Borough.
So what else have we been upto?       
Books now available on Stoketshirts.co.uk – link here Stoketshirts Book Store       
We have a number of great Stoke City books available now on the website including Stephen Foster's "…and she laughed no more", Steve Mifflin's "Exile in The Promised Land" Dave Lee's "More! You Could'ner Make It Up!". We will also be listing Simon Lowe's Match of My Life and the newly released Stoke's Greatest Games as well as the best autobiography that I have read – Denis Smith's "Just One of Seven."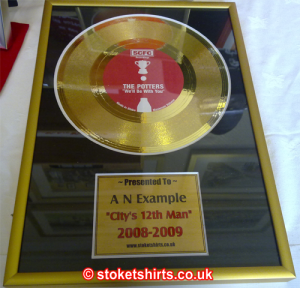 Golddiscs – If you are looking for that very special, personalised gift for a birthday, anniversary, an award or another celebration then our range of 6 "gold discs" are ideal. The Personalisation can carry any message you like, making them truly unique. See more detail here :- Personalised Gold Discs        
We have sponsored Abdoulaye Faye's away kit this season – read the story of our day out at the Brit to meet the great man himself here – Abdy and Santa We also produced some Stoketshirts.co.uk Abdoulaye Faye masks that were modelled by a group of Stokies on Sky Sports 1 Saturday Morning Football Show – Soccer AM.       
We were part of an exhibition that featured on BBC Midlands Today – See the Clip here (Midlands Today & Artbay) that features our great artist Potter 63 aka Darren Smallwood, Ian Dyer aka The Boothen End Bard and the Stoke City Legend Alan Hudson. Our shirts have the compliment of being called "Designer T Shirts" paid by the presenter Dan Pallett in his commentary.        
We have also sponsored a great organisation called the Youth Regeneration Initiative that is looking to get established – see story here – YRI & Stoketshirts       
We have also formed close links with the following Stoke City Supporter websites and the Stokecityetc podcast.  Click the name to visit their websites The Oatcake    Stokecityetc Podcast    Pottersnet     Sentinel's Why Delilah  stokecity-mad.co.uk    delilahs.co.uk   Rip Roaring Potters  rock n roll Oatcake   scfcnet.co.uk       
What's next?
We have still to confirm which design we will be using to make our next limited edition mug.       
For those of you that attended the Artbay exhibition you may have seen our wallet and passport holder samples. These will be available in the coming months as well as some new ideas re. clothing and accessories.       
We are also in the process of setting up a new business which we aim to be a "one stop shop for all printing requirements". Whether it be Clothing including T shirts, Polo Shirts, Stag & Hen Wear, Workwear or Stationery and Promotional Merchandise. We also have facilities to produce and fit Vehicle Graphics and Signage including Banners, Shop, Exhibition, Information and Safety Signage.       
All with the excellent customer service we provide for Stoketshirts.co.uk       
If you are interested in any of the above and would like a competitive quotation, then email info@stoketshirts.co.uk and we will get back to you.       
 Our new designs – click the picture to take you into the store.
Our mailing address is:
Stoketshirts.co.uk, P.O. Box 1863, Stoke – on – Trent, Staffordshire, ST4 9GZ
 (C) Copyright
2009 stoketshirts.co.uk All rights reserved.
Categories:
Stoke City F.C. T Shirt Designs
Britannia Amplification, FTV, LOVE STOKE - HATE GLORYHUNTERS, Love Stoke Hate, Love Stoke Hate Arsenal, Love Stoke Hate Chelski, Love Stoke Hate Liverpool, Love Stoke Hate Man U, Love Stoke Hate Vale, Love Stoke Hate Wolves, Matty Ezer Good, Never Surrender, Personalised Gold Discs, Stoke - on - Trent, Stoketshirts Book Store, Tommy Sorensen, Whitehead, Wilkinson Stoke, YRI & Stoketshirts